Interaction with customers
IDGC of Centre, JSC aims to apply a customer-oriented approach in every aspect of its operations and is constantly expanding its network of offices and increasing the number of tools for interaction with customers.
In 2011, IDGC of Centre, JSC approved the following standard: a System of Centralized Support for Services Customers (Minutes of the Board of Directors No. 22/11 of October 17, 2011).
In 2011, as part of the reorganization of the customer support system, Category III Customer Support Centre (CSCCustomer Service Centre) units were opened in Tver Region (Kimry) and Smolensk Region (Gagarin).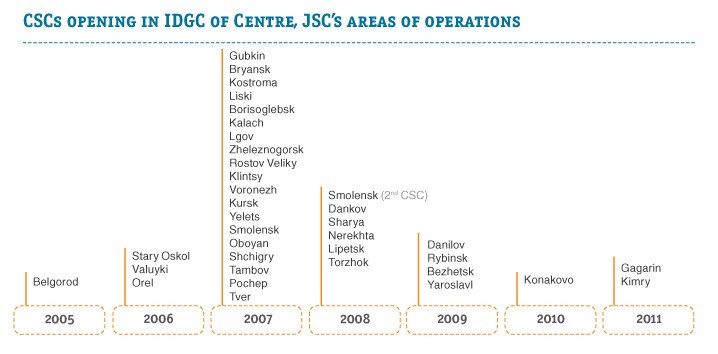 Throughout 2011, measures were being taken to increase customer awareness of the rules of Technological connection, of scheduled outages and additional services; customer surveys were also performed to evaluate customer satisfaction with the quality of the services provided.
As a result of this more active customer engagement policy, in 2011 the Company received more than 689,000 requests from users of our services, or 25% more than in 2010.
In 2012, the reorganization of Customer Service Centres is planned, and projects are underway for the installation of self-service terminals and the creation of Personal Customer Profiles.
IDGC of Centre, JSC's opportunities for customer support are presented below.

Open in new window (russian language).