Debt load
Capital structure of IDGC of Centre, JSC in 2009-2011, bn RUB :
Indicator
2009
2010
2011
Growth rate, %
2011/2010
Equity capital, bn RUB
40.68
45.92
50.52
10
Borrowed capital, bn RUB
20.41
25.14
34.59
38
including:
Loans and borrowings, bn RUB
11.13
14.94
21.24
42
Accounts payable, bn RUB
6.70
6.93
7.74
12
Borrowed capital share in liabilities, %
33
35
41
6 pp
Cash as of the end of the period, bn RUB
0.37
0.20
2.56
1,205
Net debt, bn RUB
10.76
14.74
18.67
27
Ratio of equity capital to borrowed capital
1.99
1.83
1.46
-0.37 pp
Download XLS
At year-end 2011, the equity capital of IDGC of Centre, JSC amounted to RUB 50.52 bn, or 59% of the total capital of the Company. An increase in the equity funds of the Company of RUB 4.6 bn in absolute terms occurred due to receiving a positive financial result at year-end 2011.
The financial policy that the Company has been carrying out since 2009 is focused on substituting the short-term credit volume with long-term credit resources. In 2011, the share of long-term liabilities increased to 29% of the capital of the Company, while in 2010 and 2009 it equalled 23% and 14% respectively. This was achieved mainly thanks to attracting long-term credit resources for the financing of the investment programme and, to a lesser degree, by virtue of the growth of deferred tax liabilities. The share of short-term liabilities did not change significantly and according to the 2011 results amounted to 12% of the capital of the Company.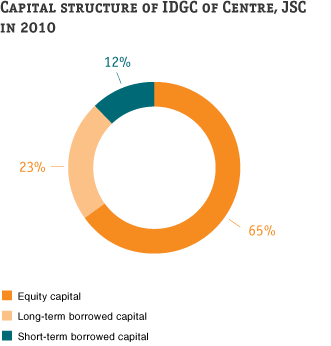 In 2011, for the financing of its investment program, IDGC of Centre, JSC attracted and used debt financing. In the reporting year, the Company attracted RUB 7.42 bn. In this regard, in recent years a growth in borrowings is visible: in 2011, the total amount of borrowings increased by RUB 6.27 bn in comparison with 2010.
However, the Company puts the main accent of its the financial policy on attracting long-term borrowed assets. The maximum term of loans attracted in 2011 was 180 months.
The credit portfolio of IDGC of Centre, JSC is diversified for the purpose of minimization of potential risks — the largest Russian banks, providing a high degree of reliability, are represented as the main creditors of the Company.
As of December 31, 2010 the weighted average borrowing rate for IDGC of Centre, JSC reached its minimum — 7.88% per annum. However, conditions in the financial markets, and specifically in the credit market, did not allow further reductions or rate-fixing in 2011. In the course of 2011, the weighted average rate increased to 8.35% per annum, which is comparable with the refinancing rate as of the end of 2011.