Other activities
Out of 689,781 requests from customers received by the Company in 2011, 302,241 (44%) were about the provision of additional services.
The provision of additional services is a separate business process, aimed at extracting the maximum from the Company's expertise and resources so as to satisfy customer demand for services in design, construction, servicing, operation and repair of customers' power grid facilities, and at the same time to allow the Company to bring in more revenue. This area is not subject to state regulation and is commercial by nature.
The main areas in which IDGC of Centre, JSC provides additional services are:
design, construction, use and repair of customers' power facilities;
street lighting;
energy servicing;
renovation of the Company's facilities for the benefit of customers;
organization of electricity metering for customers;
carrying out works related to specific customers' needs during Technological connection.
The main goals in the development of additional services for 2012 are:
Development of forward-looking additional services
Setting a unified price list for services
Applying flexible pricing policy (including discount system)
Increase of market share, revenue and profit for additional services
Using non-price competition: providing guarantees for work; increasing quality of work carried out; delivering integrated projects on a turnkey basis
Applying a customer-oriented approach
Promotion of services via official website, mass media, and customer service centres
In 2011, the Company's revenue from other activities came to RUB 963.443 mn, or 1.4% of the total revenue received by IDGC of Centre, JSC in 2011. As compared to 2010, this represented a 3.4% increase.
Revenue from providing additional services (except for income from lease and sale of Company property) is recorded in financial statements in line 2117 of Form 2, "Revenue from Sales of Other Production Goods, Works and Services".
Income from other activities not regulated by legislation (including from property lease and sale of inventories) is reflected in financial statements in line 2340 of Form 2, "Other Income".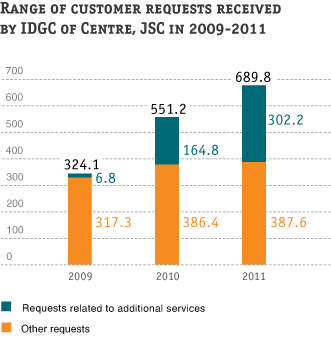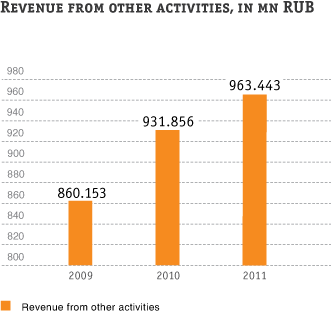 The development of additional services in 2011 and the consequent RUB 31.587 mn revenue growth as compared to 2010 was achieved as a result of several measures:
simplifying the procedure for drawing up contracts for additional services, which speeded up contract preparation periods and saved time for both employees and customers;
arranging the centralized purchase of materials for the provision of additional services which allowed faster fulfillment of additional services contractual obligations;
arranging the promotion of additional services via the mass media and Customer Service Centres.